It's time for the annual "school" headshots.
The cost is $10 per kid OR $40 per family (so if you have 3 kids, it's $30, if you have 4 or more kids it's $40). This will include a vertical and horizontal headshot of each kid with a white background.
If you want a GROUP photo of all of your kids together, you can add that on for $30.
Pictures will be edited in color AND black and white and you will receive a high-resolution digital copy (via Dropbox) so you can print whatever you want. Cheaper (and cooler) than school pictures. Non-school age children are welcome as well.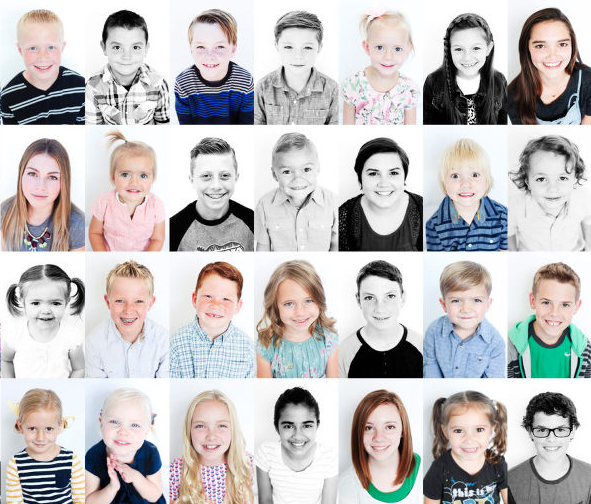 Our school allows us to just buy the class photo, so my kids still get their school picture taken and we just purchase the class photo (in elementary). Then we use these alternative photos as our yearly photos.
I will be taking "school picture" head shots in LEHI (I will e-mail you the address a few days before your appointment) on the following dates:
Click this link to sign up for WEDNESDAY, SEPTEMBER 6th
Click this link to sign up for THURSDAY, SEPTEMBER 7th
Click this link to sign up for FRIDAY, SEPTEMBER 8th
Click this link to sign up for MONDAY, SEPTEMBER 11th
PLEASE PLEASE READ ALL OF THE FOLLOWING FOR DETAILS (it will answer most questions):
**NEW THIS YEAR: If you only have ONE KID who needs a headshot, please e-mail me directly the date and time you want and I will fit you in during that time. Don't sign up on the Sign Up Genius.
**Sign-up times are first-come-first-served so if a specific time works better for you, signing up ASAP is a good idea (I run out of time-slots each year).
**Once you sign-up, please be sure to make your appointed time. If you need to change your time for any reason, please do it as soon as possible so someone else can take your time-slot.
**You only need ONE TIME SLOT PER FAMILY! (Each kid only takes 1-2 minutes plus a group shot if you want to add that on so just 10 minutes per family is enough time).
**If these dates/times don't work for you, I will probably be doing a make-up date for those who can't make it. E-mail me to let me know you are interested and we'll try to work something out. My e-mail is [email protected]
**The head shots only take about 5 to 10 minutes depending on the moods of the kids (because you know, kids).
**Please mention in the comments (on the sign up sheet) how many kids you'll be bringing and if you want a group shot or not.
**A few days before your scheduled date I will e-mail you the address. Please wait outside until it is your turn so we only have one family inside at a time. You can wait in your car or on the porch and I'll open the door when I'm ready for the next group.
As always, THANK YOU to all of you who have supported this through the years. I greatly appreciate all of you.