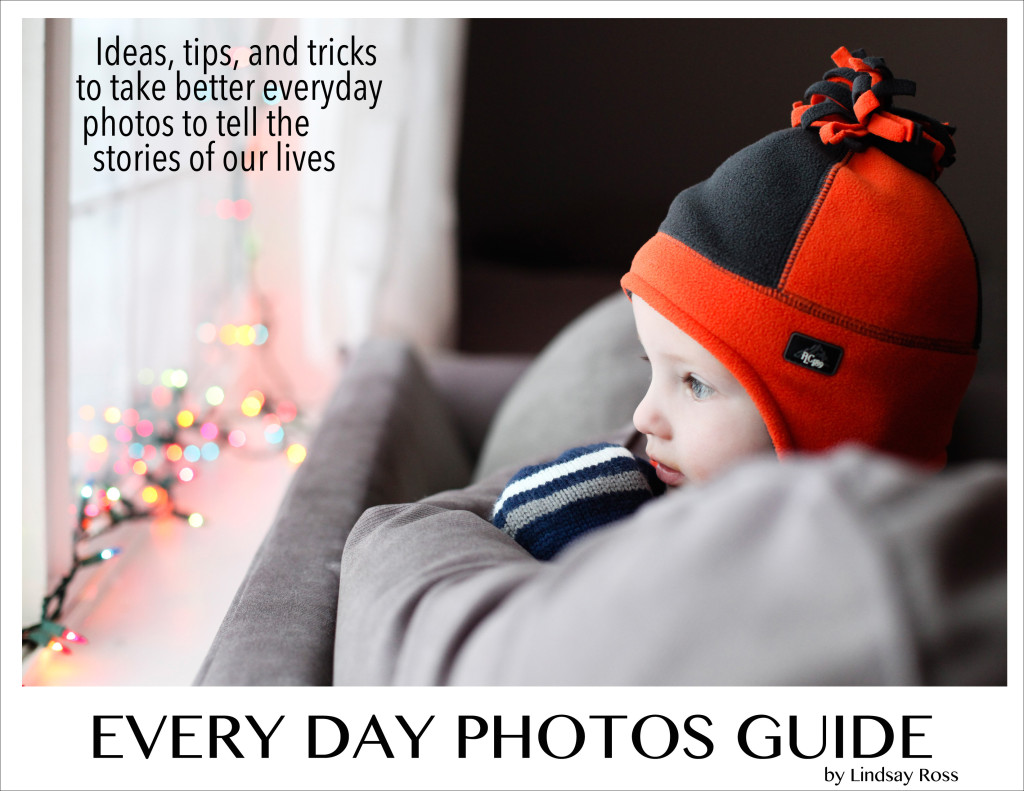 The Every Day Photos Guide.  A practical, easy-to-follow guide to help you take better every day photos to help tell your stories.
"Your guide is changing so many things for me.  I love it.  I just witnessed my son read his first book, 57 pages!  Normally I would have had him look at me and smile, but instead I captured the moment which will capture the true memory and my boy forever.  So thank you!"  Kristin
 
We panic.  We know our lives are moving fast and there's no way to freeze time.  We try to capture as much as we can, but we can't always have a camera glued to our face.  We see the stories unfolding before our eyes and we WANT to preserve them.  We want the memories to last.  We want the stories told.  But how?  How do we know we're taking photos of the right thing?  And how do we make the photos better so we can tell those stories through the photos?  And once we take the photos, what do we DO with them after?
I was looking through old photos in our family albums and I started thinking of all the photos I wish I had.  Things I vaguely remember that I wish we had a photo of.  And photos of the things I don't even remember.  And my parents don't either.  Parts of my story that are just…..gone.     How many times have you said, or heard someone say "I wish we had a photo of that?"  Sometimes in reference to big, funny, or crazy moments.  But most often it's the EVERY DAY stuff that we wish was documented.  The stuff that was once a huge part of our day-to-day life and story.  The stuff we thought we'd never forget.  But we did.  We do.  What did my childhood bedroom look like?  What was on the walls?  What outfit did I insist on wearing over and over again?  What kind of bike did I ride?  Where did I put my favorite toys?  Where did I eat my meals?  What foods did I love as a toddler?  What did all of these things look like? It's the every day stuff.  Ninety-nine percent of our existence that is a HUGE part of our story.  The every day stuff is what adds together and makes a life.  Makes a story.  Tells WHO we are.  Who our kids are.  Who our family is. Are we capturing those every day moments the way we want to?  Are our stories being told and preserved?  Have we taken photos of the right things so we can put the cameras down and live the stories?
Photography has given me more patience.  More love.  More compassion.  More awareness.  And most importantly, more intention to live a purposeful life.  It can do the same for you too.  And it's why I created this guide. The Every Day Photos Guide is a guide to help YOU tell the story of your life, and your family's life, and your kids lives through photos.  A guide to help you take the RIGHT KIND of photos so you aren't just aimlessly taking a lot of photos.
BUY NOW! $17 (On SALE for $11)
What's included when you purchase the Every Day Photos Guide:
**A 73 page downloadable eBook (pdf file)
**A practical, easy-to-implement guide that walks you through the process of documenting your family story better with ANY kind of camera
**General photos tips to help you take better technical photos (easy to understand language and practical tips you can implement immediately to improve your photos), but also photos that make you FEEL and not just see.
**Step-by-step directions on HOW to tell a story with your photos (with photo examples)
**Instructions on how to get started and what to do first.
**36 specific every-day photo ideas with photo examples so you get a clear idea of WHAT photos to take and HOW to take them
**Specific photo tips to help you capture the photo ideas in the best way possible with ANY camera
**A printable list with over 100 more ideas of every-day moments you probably haven't thought of to photograph, but can be a big part of your personal stories.
**Tips and tricks for documenting and printing the photos after you take them.  Specific ideas and tips on what to do with the photos so they don't just stay on our phones or computers.
**Additional resources and ideas to further document your family story
What other's are saying:
"I have thoroughly enjoyed reading every tip and found myself looking forward to the next one. Truly fantastic information!" Brooke
"Thank you so much for sharing your talents and ideas.  I am so excited to continue taking photos and documenting the lives of my family.  I am so grateful to you for sharing this eBook!"  Robyn
"Thanks so much for sharing your every day photos guide.  Made me look at things with a new and fresh perspective to document my daily life."  Charlene
"Wow!  Thanks so much.  I've enjoyed the photo guide!  Ideas I would not have thought of or had time to think of.  I've appreciated this resource a lot!"  Marcia
"I have loved reading these tips!  You have given some awesome advice.  Every tip was informative and useful."  Laura
And hey, there's no risk.  If you purchase the eBook and find it doesn't help you document your every day stories better, just e-mail me within 14 days of your purchase and I'll refund your money.  So there's nothing to lose.
A friend of mine had a son who was diagnosed with a terminal illness.  He said "…upon learning his life would be cut short, I began to see moments differently.  I stopped taking photos of what things looked like and focused more on capturing what life felt like."
That right there is my main priority for this guide.  To help you stop taking photos of just what things look like, and focus more on capturing what life FEELS like.  Capturing who people are and why their stories matter.  The every day moments and things that make up our lives.  The Every Day Photos Guide.  Your guide to documenting your story through photos.

BUY NOW! $17 (On SALE for $11)