Truthfully, I wasn't even sure how to write about this so I just kept putting it off.  But so many of you helped and it turned out far better than I ever imagined, I would feel pretty ungrateful if I didn't at least give a little update.
On December 8th I sent out a little call for help with a project I was doing.  I wanted to collect as much money as I could to buy blankets for the homeless community in my area.  You can read all about WHY I wanted to do it and what I asked in this post.
We collected money for 5 days, made 4 trips to Costco, raised around $4500 from 130 different people.
We donate often to the Road Home shelter in Salt Lake City and I've seen the donation center around Christmas time.  It's overflowing with things and slightly chaotic.  I was worried the blankets might get "lost" for a bit before they got in to the hands of people who needed them right away.  So we decided to hand them out directly to the homeless out on the streets instead of going through the shelter (I love the shelter and love donating there, this just felt like special circumstances and timing–normally we still donate through the shelter).
I was admittedly pretty nervous.  I'd never donated this way before and I had no idea what to expect.  I wasn't worried about my safety.  Just nervous of the unexpected I guess.  And I truly just wanted it to be helpful and not some dumb project that just made us "feel better".
So on a snowy Saturday morning, we drove downtown with our kids and a few family members, 2 cars full to the ceiling with blankets and socks, and a wagon.  We went to Pioneer Park in downtown Salt Lake, a known area where the homeless community gathers.  We loaded up the wagon, our pockets and our arms with the blankets and socks and walked from group to group handing them out.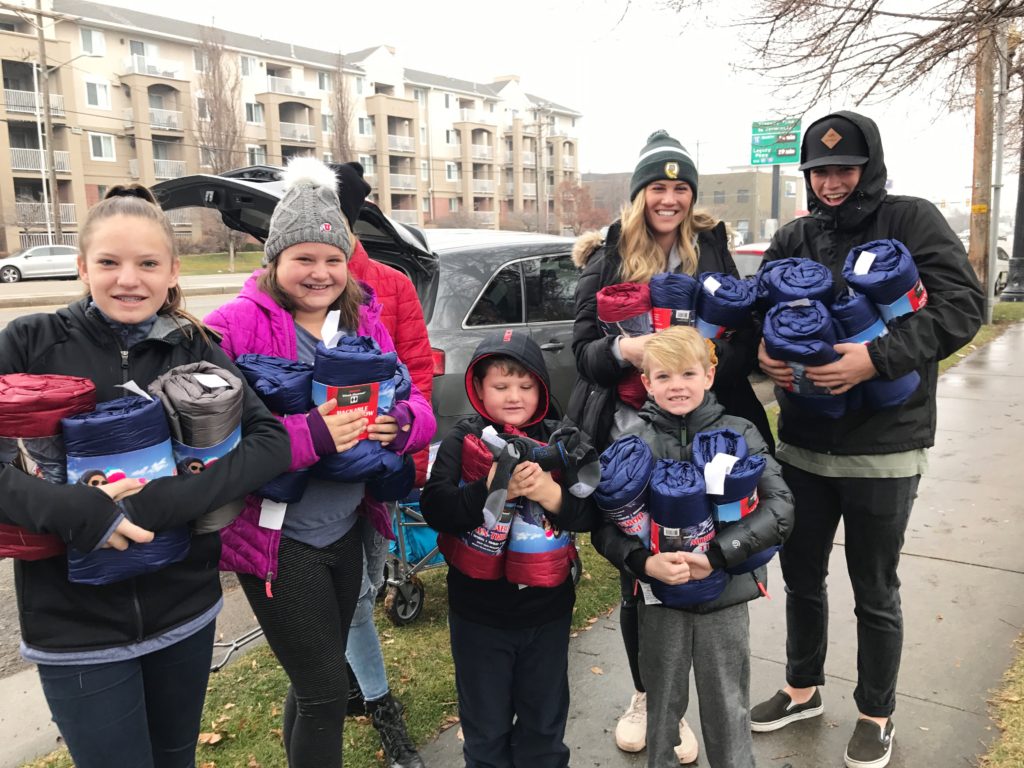 The people were gracious and kind.  Some were chatty and had stories to tell.  Some clearly had mental illness.  A few were visibly drunk.  But they were polite and thankful and plenty were full of humor and smiles.  My kids were a little nervous at first, but they quickly realized these are just people.  And the people loved seeing my kids.
After giving blankets and socks to everyone at the park, we headed over to the shelter and handed the rest out to people outside around the building.
We handed out close to 200 blankets and more than that amount of socks.  And my only reason for sharing is to THANK all of you who helped make it possible.  We saw a need (it's so cold here in Utah in the winters), we found something that would fill the need (those Costco down blankets are magic), and we asked all of you to help us.  And you did.
I'm hoping we (I could never have done this without so many of you helping) can make this an annual tradition because it worked.  It helped people.  For those who got the blankets, it made a difference for them.  We can't help everyone and I know it gets overwhelming when we see all the need around the world, but we CAN do SOMEthing and we can make a difference.  It's what we're meant to do.  I believe that with my whole heart.