If you've been around here on the blog at all, you know I'm a big fan of the Project Life App (and the Project Life system in general).  The Becky Higgins team took the crap out of scrapbooking and it's kind of the best thing ever.  If it weren't for this super simple system, there is no way I'd be catching up on the years and years of photos that need printing around here.
For those of you making an effort to take every day photos of your family and document your family stories, this is the next step in making sure those photos get printed.  It's scrapbooking on your phone and you do everything with your thumbs.  You can do it anywhere, anytime.
Though the app is user friendly, I wanted to do a quick walk-through to maybe clear up some questions people have.  I also share a few tips-and-tricks that maybe not everyone knows, as well as some tips on how to make the photos look better when you print them.
This video will walk you through the app start to finish so you can see how easy it is to create pages (while watching tv, during half-time of sporting events, in the carpool lane…. you get the idea).

If you'd like to see me create a page from start to finish, you can check out THIS VIDEO.  There are no words (just awesome music) and you can see me create a page from beginning to end with my phone.  If you don't have an iPhone the app is coming soon in an Android version.  In the mean-time, you could use an iPad if you have one.
This is what a completed page ends up looking like.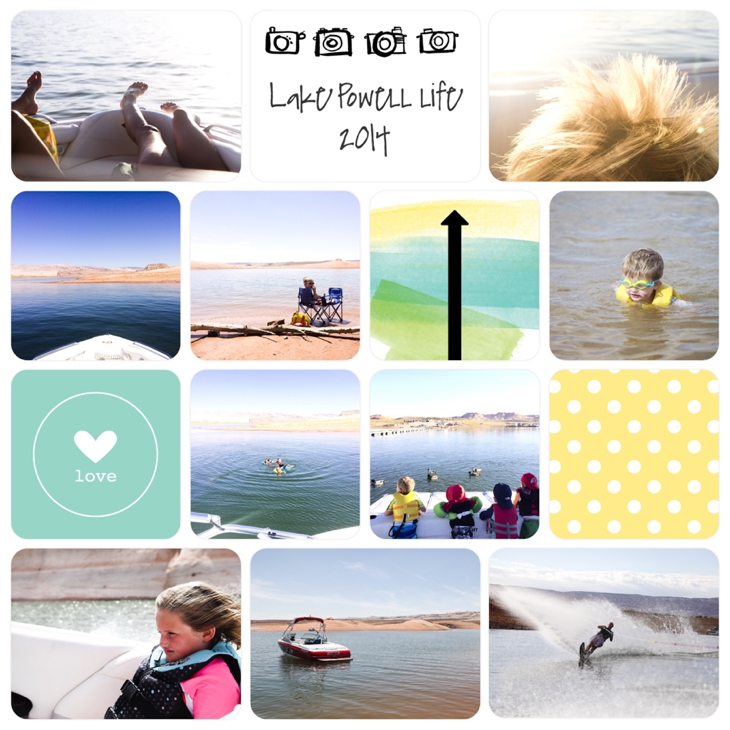 And here are a batch of printed pages.  Like I said, the quality is excellent (they print from a professional printing company).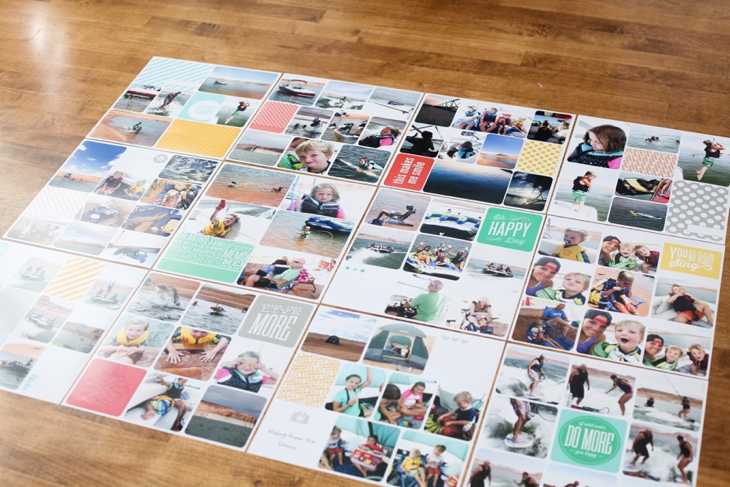 This is a comparison of 8×8 and 12×12 prints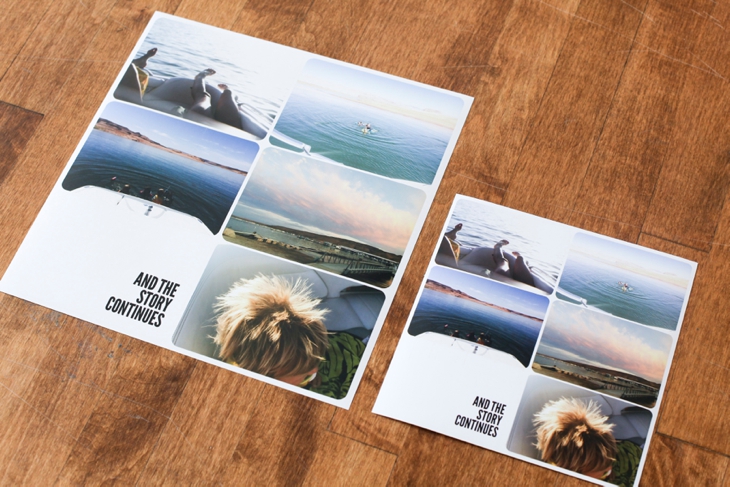 And here's the little people enjoying the finished product.  Kids (and adults) LOVE LOVE LOVE looking at physical, printed photos.  Yea, you can look at them on your phone or the computer (assuming the computer doesn't crash or you don't drop your phone in the lake and lose all the photos if you aren't backing them up), but it's just not the same as holding and feeling them in your lap.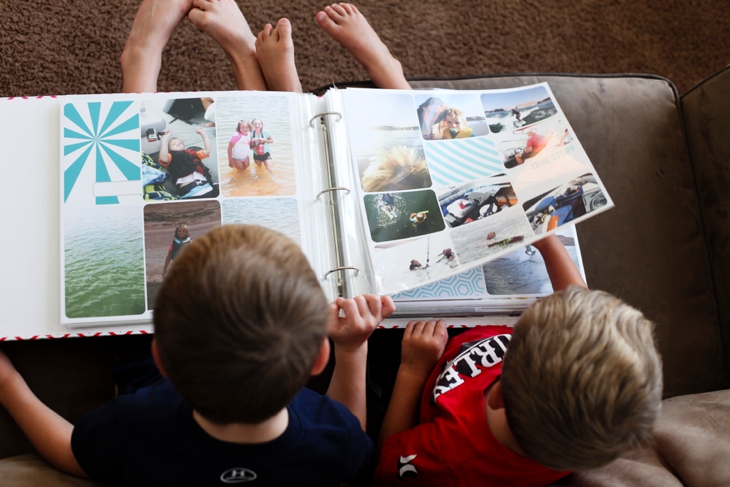 My BIGGEST tip:  Simplify, simplify, simplify.  Once you get started on the app, you'll get faster and bust out pages quicker which leads to completed albums.  Printed physical family photo albums=winning.
Make it a habit to spend 10 or 15 minutes every few days and make quick pages with the photos you've been taking.  Then at the end of the month you can send in a batch of completed pages for printing.
If you're easily overwhelmed (like me) pick one or two layouts and stick with those.  And pick ONE kit per album.  Not switching between kits and trying to coordinate different kits saves my sanity.  Or pick one kit per series of photos.  This saves me tons of time.
If you have ANY questions, please feel free to comment below or e-mail me at ltross17@yahoo.com
PS.
If you aren't part of the community here yet, please join us (it's growing fast and full of awesome people).  You can read all about why I blog on the About page.  And to join us, just enter your name and e-mail below.  You'll get a confirmation e-mail.  Make sure you confirm.  Then you'll get another e-mail with a FREE eBook:  Ten Tips to immediately improve your phone photography.  The eBook will be super helpful in taking better pictures for your Project Life pages.
If you want to take BETTER EVERY DAY PHOTOS to document your family story more effectively, be sure to check out the Every Day Photos Guide.
Thanks for being here!