This is NOT your average photography class. It's not just about the camera and what all those words mean: aperture, exposure, ISO, composition, shutter speed.
Though we'll learn a lot about how the camera works and how to take better "technical" photos, the

heart

of this class is focused on the

WHY

behind the picture taking. Because as long as you have a why, you'll figure out the how. That's what makes this class different than any other photography class out there.
It's about the people and relationships we're taking pictures of. How we can grow closer to and more in tune with our children (and spouse) through the gift of photography.
How we can be more

intentional

mothers using photography.
How we can use photography and displaying photographs to tell a better family "story".
And how we can help our children learn who they've always been and give them a sense of love and

belonging

in a world where we all desperately need to feel that.
And we'll have fun! And laugh. A lot. I promise.
The first portion of the class will be completed

online

where you can work at your own pace and learn the elements of taking "technically" better photographs. Then we'll use that foundation of knowledge in an interactive, hands on class where you will learn how to be in control of your camera and get consistently better photos. You will be able to practice what you learned in the online portion of the class with direct access to me for help.
Then we'll tie it all together and discuss how to get emotionally better photographs. And how the gift of photography can help us be better parents and create an intentional family story.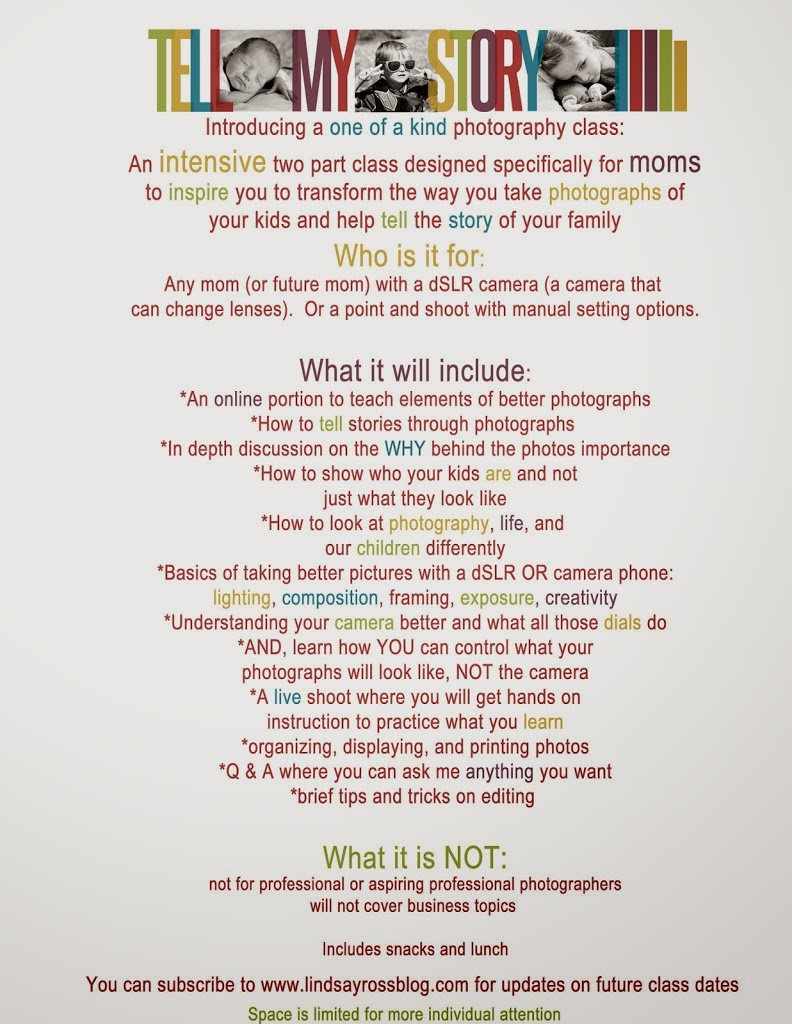 Don't just take my word for it. Hear it from people who have already attended the class:
"I've had my camera for almost 3 years now and still have never learned how to use any manual setting. I either had "no time" and/or it was too overwhelming to try and find a class that would help me without talking over my head. Lindsay takes beautiful pictures so I was so excited to hear what she has to say–about picture-taking in general. She told us not only about tips for taking better pictures, but WHY we should be taking pictures in the first place. She also taught us the basics of the manual settings–SO HELPFUL. The setting was relaxed and it was all in one day. I loved it. I truly believe that picture taking is THE BEST INVESTMENT…I really needed to learn more so that I can practice and end up taking better and better pictures so that my kids can remember their childhoods with better clarity. THANK YOU LINDSAY! I recommend this class to everyone!" Jacqui
"I learned so much from taking the "tell my story" class. Lindsay was very thorough in the way she explained parts of the camera and different concepts. It was also great to have her teach as we completed the "practical" portion of the class. The class changed the way that I take pictures and even the way that I view photography. I have such a greater appreciation now. I would highly recommend taking this class!" April
"This photography class taught me so much more than how to take my camera out of auto (so excited that I now know how to use manual mode.) Lindsay was awesome, she taught the importance of catching those everyday moments that tell the STORY of my life! I am awful at journaling. I am now committing myself to break out my camera and capturing the happy, the sad, and the everyday things that make up my STORY and my families STORY!!" Natalie
"This class gave me time to think about why I take the pictures I take and am I taking enough of the pictures that matter to me and my family. I learned some great tools to help me do that and I now feel more inspired than ever to take more and better photos of our lives–photos that tell a story about who we are and not what we want others to think we are. Thank you for letting me be a part of this." Shara
"I cannot thank you enough for allowing me to participate and be a part of the class yesterday. It was such a day well spent. You are passionate about what you do and why you do it and I left inspired in ways I did not anticipate.
"
Kim
"I've had my camera for a while now. It's a nice camera and sometimes I get really awesome pictures. But sometimes I don't. Now I understand how to control my camera so I consistently get the pictures I want. I loved the "live" shoot we did so I could practice what we had learned and have you there to answer all my questions. I also really liked the section of the class where we talked about why the pictures are so important and how we can use photographs to really tell the stories of our children's lives. Finally I understand what all those photography terms mean and what all the dials on my camera do, and I am excited to practice so I can consistently tell the story I want to tell with my pictures." Brittany
"I look at the way I take pictures and the day to day things in my life in a whole new way! I'm so excited for this new approach to my photography and life! Thank you" Sarah
"I wanted
to tell you thank you for the photography class! I have been playing/practicing (ALL IN MANUAL) and I think I at least know which numbers mean what, and how to adjust! I think it will take me a lot more practice and maybe a new AUTO FOCUS lens for christmas:). I actually really loved the first half of the class about WHY to take pictures and how to tell my kids stories better. I am determined to start looking for the mundane things that I know I'll miss.
Thanks again…
you're a good teacher!" Kamie
**Class sizes are small so each person gets individual attention and help with their camera settings as well as plenty of time and opportunity to ask questions.**
*Sign up with a friend and you each get $20 off. E-mail me directly to sign up with a friend.*
{Design for the Tell My Story banner done by the ridiculously talented Meredith Carty. You can find her here.}